How We Can Help
Effective Against
Specification of Adair AHU
Is able to considerably bring down the total viable count.
Simultaneously brings down the VOC's as well as SPM level.
Equipped with

A set of 4 UVC/UVGI lamps (2537 A wavelength).
2 UVC activated photocatalytic membrane (TiO2).
4 PCI generators.

Each system is Sufficient for treating the air volume of upto 5000 CFM.
Power consumption < 100 Watts per unit
Modular system & installable in single or multiple units depending upon the capacity of AHU.
Does not add to the static pressure or create any pressure drop in the existing or proposed AHU.
Monitoring panel continuously monitors the integrity of various components & give alerts.
Installable in AC duct/plenum mounted systems, the point of air distribution, returning air of depending upon the AHU design.
Does not generate any harmful by-product or VOCs like Ozone.
Integrated monitoring panel with visual indicator regarding working of UVGI, PCI & total run time.
European standard CE certified quality product.
Manufactured by WHO GMP/ GPP, ISO 9001-2015, 14001-2015, ISO 13485-2016 certified quality conscious manufacturer.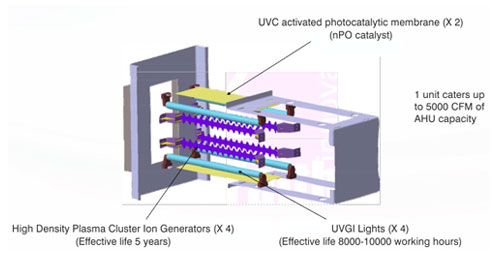 Adair AHU Module
Specification of Adair Ultra
Supplying, installations, testing and commissioning of Commercial Air Purification System having seven stage air purification system including Pre Filter.
HEPA Filter
Media Filter
Photo catalyst
Activated Carbon
UV lights(2Nos)
Ions having 365m3/hr capacity suitable for 220Volt
50Hz AC Supply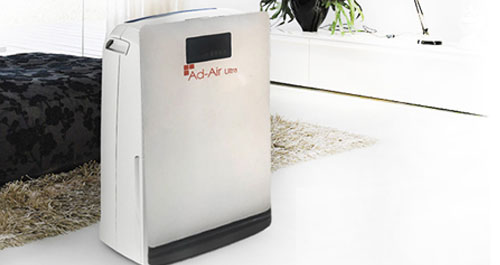 Specification of Adair Turbo
To be launched Soon - Undergoing lab testings